I started my career as a waitress, then an administrative temp, an administrative assistant, and later found myself on a path to being an executive assistant with a process improvement focus/specialty. I found myself implementing a 2-year MS Dynamics solution as the lead Business SME, and ultimately transitioning into a full-time Salesforce Admin!
I wrote this orignally in 2015, updating it now in 2022 … I moved into Salesforce consulting in 2016 and never looked back. Found myself in sales as a Solutions Architect for several years and now run our Customer Success Solutions team focusing on building long term relationships with our existing customers and providing ongoing support and project work to help them meet their success goals!
I believe having a quick-win mindset over the years ultimately is what led me to where I am today. Whether it was going the extra mile to figure out how to ensure my customers had an amazing dining experience as a waitress, or coaching an executive to communicate the hard truth instead of hinting at or working around it (i.e. "Your deal does not exist if it is not entered in Salesforce. Period."), or facilitating an introduction between two people who did not know the other existed; these types of actions have always been key to successful process improvement and change management throughout my career.
Quick wins are the connection of people with the process and making the expectations clear… "Hey Jane meet Joe, he is the person who must clean up your mess when you throw the contract into the system without filling out all the necessary information or providing the abstract; and after talking with both of you it seems you two don't even know the other person even exists, but now that you know each other maybe you could help improve and maximize your efforts through collaboration and teamwork? What do you think!?" Add to this suggestion actual examples of how they both win if they work together and you just became a hero!
"Quick wins" have a strong focus on results, specifically around "delivering a new and visible contribution to the success of the business". I like this definition as used by the Harvard Business Review in this article about the paradox of quick wins, because it highlights the importance of measuring the win through the success of the business. I also like this article because it reminds us that a messy and toxic quick win is much different than an effective and successful quick win.
The key determining factor in a successful quick win and a failure is your ability to manage the process changes within your team effectively. Therefore, I can't stress the importance of implementing a salesforce.com quick win in a very specific manner as explained here in the 8 Steps to Managing Successful Salesforce Projects documentation (no matter how small or big the project is)!
Finally, to get your mind wrapped around what a quick win might look like and to get your creativity flowing, check out these 7 Quick Win Examples for Salesforce Admins:
#1) The sales team changes the status of the opportunity record when they email the contract out but there is no way for the VP of sales to see a full report of how long it takes a contract to be signed on average. Implementing an auto field update based on the status changing to "contract issued" to capture the current date and then another date field capturing when the status is changed to "contract is signed" can be done very quickly using out of the box functionality.
#2) A subject matter expert (SME) that processes invoices for the team has mentioned in one of your regular review and check-in sessions with her that she sends an email to a different group to let them know when an invoice is over a certain threshold (or meets some other criteria). You tell her you can easily setup a workflow rule to email that team a notification automatically when the criteria is met.
PRO TIP ALERT: If you don't currently have regular check-ins with your power users, setting these up is a quick win on it's own! Check out this great article from AdminHero.com Brent Downey, and be sure to download the referenced slide deck as it has great examples about how to empower your users to become super users!
#3) You find out there is a team of analysts managing data/activities in an Excel file. This data is managed across the team in one Excel file as they track the status of each validation activity on their daily list of activities (this might be an activity they do using a legacy system). They don't have another system to track their activities in because they don't understand that Salesforce is a database and a full workflow engine. You sit down with them and ask them how they use the Excel file and work to implement a new custom app in Salesforce for them so they can stop using Excel (and stop spinning their wheels trying to figure out who is working on what and how they can accurately show the fruits of their labor in a report that is related to the account/client details!)
#4) Implement a series of dashboards for your team! Think about what metrics would be valuable for your team to see on a dashboard and build one for them proactively – they will be super excited (as always be sure to ask for feedback and revise as necessary, the dashboard is for them after all!).
PRO TIP ALERT: Search the AppExchange for free dashboard packets to download to get you started – like this one for Leads.
Here are other resources to get your ideas flowing around dashboards:

Check out this

blog post

for ideas around Opportunity

management
#5) Check out FormAssembly. This product is affordable and solves a problem a lot of us admins have… collecting information from people without a license in Salesforce. Whether you want to solicit information from an external party (customer or partner or client) or an internal party that does not have a license (and doesn't need one because there is no other reason to have them in the system except to provide some information at some point in a process that is owned by the sales team for example), you can send them a link to fill out the data and then it is populated into Salesforce as if they updated/created the record. AND VALIDATION RULES APPLY!! It is amazing!!
p.s. No, I am not paid to say these things about FormAssembly! 🙂
#6) Create a private Chatter Group and add your super users to the group. Share information with them and keep an open dialog. Remember, they are your super power… if you make any quick wins for them you win big time (and so does everyone else!). Knowing what is on their mind and being their go-to person will help your career and the entire company in being extremely productive and efficient. Your super users are the life-source of all processes (and they are a true force in driving user adoption and change management).
PRO TIP ALERT: See PRO TIP under step #2 and download the referenced powerpoint for more details on this!
#7) Follow the lead of these amazing #AwesomeAdmins who have shared their quick win stories with me on Twitter. You can post your story on Twitter now using #SFDCQuickWins hashtag. Let's start sharing our quick wins and inspiring other #AwesomeAdmins today!!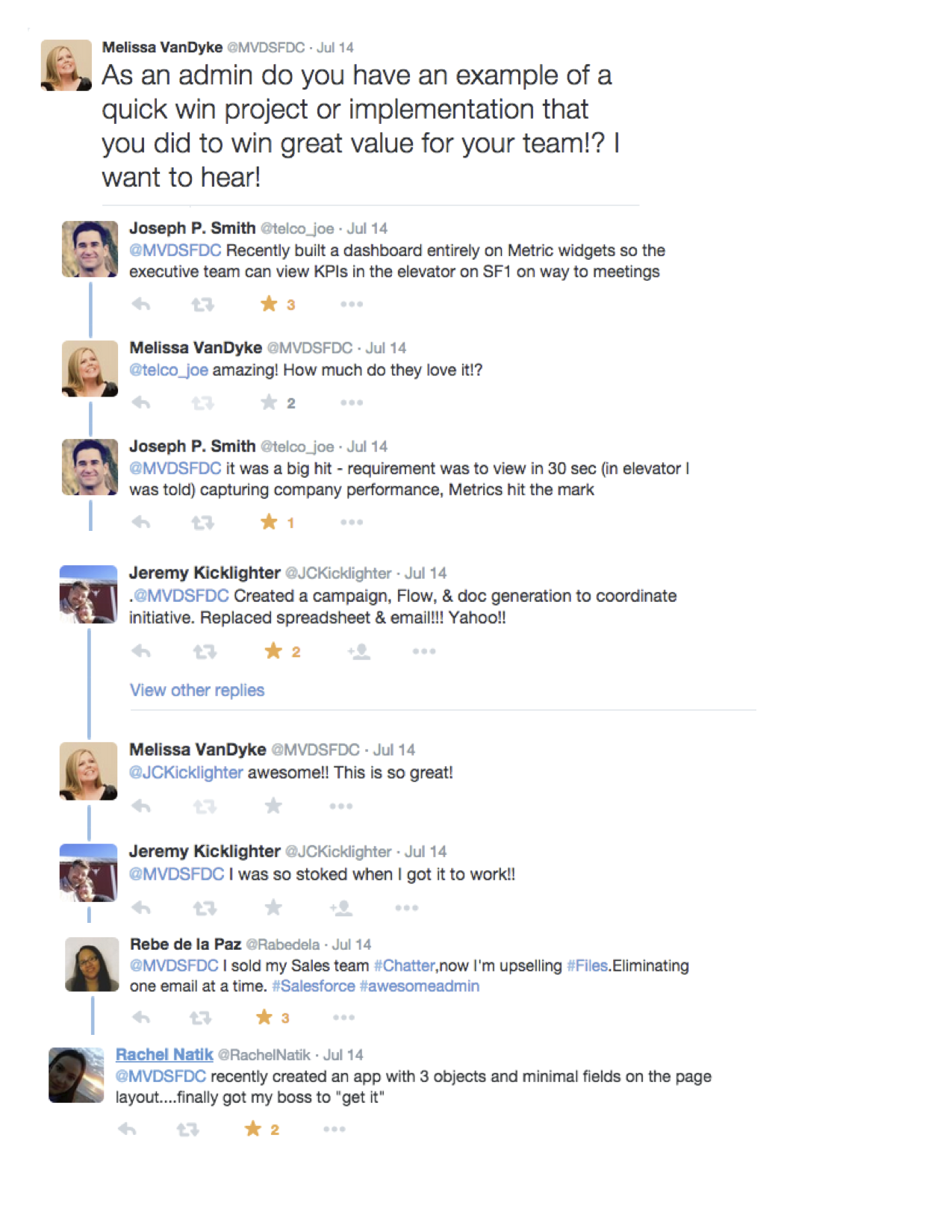 by