Extra! Extra! I co-hosted a webinar with Mike Gerholdt on How to Automate Processes (hint: using formulas!)–CLICK HERE to see the recording and view the deck!
The new Salesforce Admin website from salesforce has launched and can be found at Admin.Salesforce.com; it is a place for all admins to learn, connect and be inspired!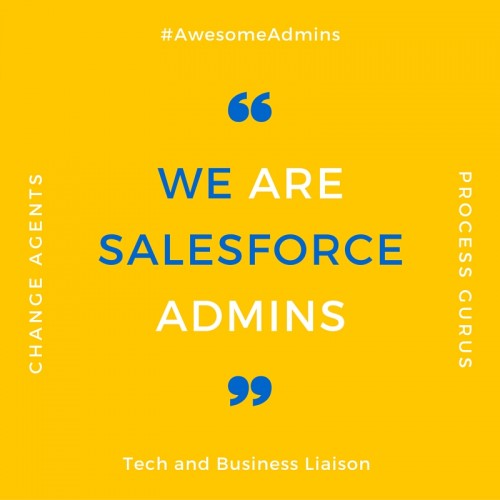 Salesforce Admins bring value to their organization by protecting the investment being made in salesforce.  The more an admin understands how valuable they are and how they can continue to bring more and more value, the more successful the admin is in their career and in return the more success the organization inherits. Wow that was a lot of MORE's!
I originally started contributing to the salesforce community because I believe in paying it forward. I have learned so much from others who take the time to share their stories, experiences and knowledge over the years! When I was first starting out if I didn't have Buttonclickadmin.com to rely on everyday, I think I would have gone crazy (and maybe pursued a different career path who knows!).
Bottom line, there is a huge need for companies that are investing in salesforce.com as their platform to have dedicated administrators that understand their business process and can work with technology. Period. So if you have the opportunity to be this person, you will have a successful career.. and if you bring in project management methodologies to your work you will have easier time of managing and implementing bigger and bigger projects (as you grow the platform in your organization)!
FUN FACT:
The Salesforce Ecosystem Will Add $272B to Local Economies Through 2018. #AwesomeAdmins are a huge part of this equation.
We are stronger when united. We are more knowledgable when connected. We are more successful when collaborating. A solo admin can move huge rocks, but an army of admins can move mountains. You are not alone, join the community and see how many of us there are!